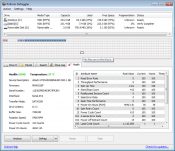 Defraggler is what you expect form a tool of its kind. Featuring full or quick defragmentation and file or folder defragmentation, this app acts smart with every file according to dimensions. In this way, larger files are moved to the end of the hard drive and smaller ones at the beginning.
This is because files from the beginning of the drive are accessed faster than those at its end. Safeguards that prevent data loss during defragmentation have been integrated into the software.
Lighter than ever and with features such as free space defragmenter and scheduled defragmentation, this tool proves itself to be reliable, useful and easy to use thanks to its multi-language interface.
Defraggler features and benefits:
Defragment exactly what you want

Interactive drive map
Defragment free space

Scheduled defragmentation
Multi-lingual support