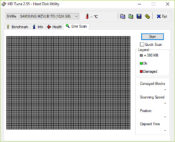 HD Tune provides information regarding a computer's hard disk performance. You should expect a complete analysis report through this software, which can help determine the health of your internal or external hard disk.
Comprehensive Hard Disk Analysis
HD Tune has an easy-to-use interface, which can help all users utilize this software for their maximum benefit. You can access this software's main functions through the main window, which consists of four tabs to categorize and organize all these functions.
You can even get to know the temperature of your selected hard drive through HD Tune. However, the primary purpose for which it is designed is to scan and detect problems with the hard disk.
Minimum, average, and maximum transfer rates can be accessed through this tool. You can also get to know the burst and access rates through this fantastic tool.
Scanning the hard drive through this tool also helps identify the damaged blocks, an essential milestone in recovering those malfunctioning blocks and the stored data.
In-Depth Hard Drive Insights
This tool provides detailed information about the hard disk, including serial number, firmware version, and buffer capacity.
The entire process of scanning is quite smooth. Thus, you can easily continue working with your PC without having any problems in its usual operations.
It is one of the positive aspects of HD Tune, as not every software providing similar benefits makes the scanning process very smooth to allow users to manage the normal working simultaneously.
Conclusion
Overall, HD Tune is an easy-to-use application that can provide you with detailed information about your hard drive and detect the damaging blocks of your hard drive.
Its comprehensive analysis, temperature monitoring, and ability to identify damaged blocks equip users with valuable insights into their storage devices. Moreover, the software's seamless scanning process ensures minimal disruption to your daily computing tasks.
HD Tune is a valuable asset in optimizing and safeguarding your hard disk, making it a must-have tool for computer enthusiasts and professionals alike.