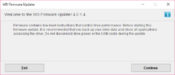 Using this application, you can keep your Western Digital Hard hard drive up to date. WD Universal Firmware Updater does not support a single device only.
The devices like My Book and My Passport are the most commonly supported. But you can find the complete list of devices supported by using WD Universal Firmware Updater.
It is a lightweight application that does not require much space from your computer. Moreover, it does not impact the performance of your system or the other application being used on the computer.
You must connect your hard drive to the computer via a USB port. In cases where the application does not detect the storage device, you must disconnect all these devices other than the one you are looking to update.
Moreover, the use of WD Universal Firmware Updater is quite easy. It is portable and thus can work on different devices without downloading or installation. Even the process of downloading it is not required.
WD Universal Firmware Updater is an application to optimize the performance of your WD drive.