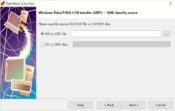 FlashBoot is an intuitive and straightforward tool for ensuring you can install Windows operating systems on your computer from a USB flash drive.
You can do this with our without additional drivers, and you'll be able to boot a complete OS straight from your USB drive, and you'll also be able to image or format it easily.
When you want to set up your Windows operating system, a lot of thought is sometimes put into the process. When you deal with older OS versions and new hardware, there might occasionally be compatibility problems.
And when you want to install an older OS, you might not have the right software. You can use FlashBoot instead.
Create a Windows Flash Drives Easily
This tool's main role is creating a bootable USB drive for installing Windows operating systems on your computer. You can install almost any Windows version, from Windows XP to the newer versions of Windows, such as Windows 10. You can also import the installation files from an image, DVD, or CD.
And when you run older software on newer hardware, sometimes you might encounter several compatibility problems, so you'll most likely need to use drivers to overcome those issues.
The good news is that FlashBoot allows you to add drivers to the bootable drives when installing older Windows versions, but you have newer hardware.
Boot Your OS from Your USB Drive
When you want to install the OS on your computer, all you need to do here is plug in your USB drive and get going.
You can get a fully functional Windows 8/8.1 version onto the USB drive and start installing it immediately. You can also add a drive with DOS or UEFI shells.
Conclusion
If you want a good tool for creating bootable USB drives, this tool won't fail you. FlashBoot will help you create bootable USB drives for installing Windows operating systems, allowing you to run a complete OS from your chosen flash drive.
Download it now and try it out yourself.