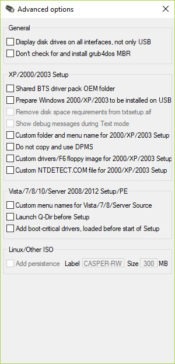 WinSetupFromUSB is an application that allows you to install Windows using a USB drive. This utility functions similarly to the standard computer preparation for Windows installation using a CD or DVD.
WinSetupFromUSB allows booting in EFI mode and BIOS. Additionally, the Windows setup files can be installed on the same USB disk or a different one, which helps create a setup for easy installation of Windows. The application allows multiple Windows setups like XP, 2000, 2003, Vista, Windows 7, Server 2008, Windows 8, and Windows Server 2012 and supports 32 and 64-bit versions.
Advanced options allow you to show all drives, regardless of the interface, prepare Windows to be installed on USB, use custom named folders, and more.
WinSetupFromUSB provides a simplified mechanism for running the Windows setup in BIOS and EFI mode through a USB flash drive.