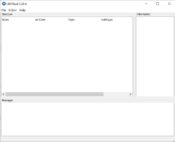 UEFITool allows you to edit your UEFI thanks to this user-friendly interface, where you can access all of the tools inside UEFI, even if you're a beginner.
With UEFITool, editing and viewing your UEFI and BIOS configurations are easy. You can import the data via image files, view these configurations, and edit them if you want.
Even though UEFI editing is perceived as a job for professionals, you'll be able to edit them with this user-friendly application that will provide you with a nice interface.
User-Friendly UEFI Tool
This tool is user-friendly as it has an intuitive interface allowing you to access your UEFI configurations easily. However, it's also important to note that you'll need to know about the configurations inside UEFI, even if the tool is simple and easy to use.
But if you already have that, then UEFITool will be a breeze.
It has a simple design that looks somewhat simplistic. But the experience matters, and that is on a relatively high level. Even though it's not very visually appealing, you'll be able to use it easily.
Compatible with Many BIOS Image Types
What is more, this application offers you many nice functionalities and compatibility. It is compatible with many BIOS image types, such as ROM, BIN, CAP, BIO, FD, WPH, and EFI.
These are some of the most common and standard BIOS image types. You'll be able to open them and view them inside a structured interface where you'll see their name and additional information about them.
You can extract the data from an image and insert items into it. You may also remove the pieces you find unwanted. And when you're done editing, you can easily export the image. In terms of the features, you'll have access to some nice UEFI tools.
Conclusion
To conclude, UEFITool is a user-friendly tool for accessing your UEFI configurations and settings and making changes to them. It's easy to use with a simple interface, although it requires you to have some UEFI knowledge.