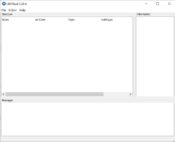 UEFITool provides you with an opportunity to view and edit the UEFI firmware in a very convenient manner. You can provide BIOS image files to help in the visualization and editing process, which is one of this application's features. ROM, BIN, CAP, BIO, FD, WPH, and EFI are the image file formats that can be accepted.
You can even add the instructions for editing the file inside the image, and this application will extract the data. Additionally, the export of data outside the app is also possible.
Overall, you can't expect to use this application if you are a beginner or do not know BIOS modding. But if you have some of the ideas about this technique, you can extract the best out of the application's various features.
UEFITool is a tool experienced users need to edit and view UEFI files. It provides various features to make your work convenient.