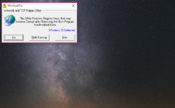 WinSockFix helps you in restoring registry keys which have been corrupted by removing the program that modified them. You probably had to face a situation in the past when you no longer could have connected to the Internet, and you didn`t know why.
It usually happens when there is a missing or an invalid registry that has been modified by the removal of an app from your PC. If you don`t want to reinstall Windows, it can turn out to be a better idea to try out WinSockFix.
This app can be used when your internet connection is corrupted due to the removed or invalid registry entries. WinSockFix detects the problem and attempts to fix it. It comes in handy when you make different mistakes or when you uninstall some firewall applications or any types of programs.
This tool is better than trying to go through fixing and reinstalling the whole operating system just because you don`t have an active connection to the internet. You can make these changes ion the Windows registry files, but if you are too afraid to make the changes yourself, then this WinSockFix can easily be a solution for you, and you can start using it out only by taking advantage of the dedicated button called ReG-Backup.
WinSockFix detects the current operating system you are using and releases the IP address while getting you "offline". After this, it imports new registry values that work correctly, and this is how your issue is resolved.