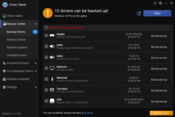 Keeping your computer up to date can be a problem for some of us because our PC's software needs attention. If we don't update the drivers, issues will appear, and we can find out that our PC or laptop isn't working correctly.
It is the time when it is crucial to make use of some easy to use tools such as Driver Talent. This application takes care of your driver updates and does many other things like backup, restore, uninstall, and reinstall.
This tool is easy to understand, and there will be many tasks that this app can easily do. You may find these additional tasks useful, especially if you have to do other things such as replacing some corrupted drivers. If you are an advanced user, then you may find Driver Talent pretty useful.
The application will scan your computer o find the outdated or missing drivers and let you choose to update them.
It can be used by regular users too because it can solve their problems regarding drivers.