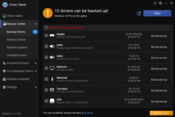 Driver Talent is an interface that will help you keep your computer up to date, as it will scan for new updates for your hardware and software, so you'll be able to update them easily and quickly.
Get Latest Drivers
Keeping the drivers up to date is one of the most important things when you need to keep your computer running smoothly. And when you don't scan for the updates, you might miss out on some important performance updates, which can make your computer run slowly.
Whether it's hardware or software that you need to update, you must constantly check for updates.
It takes the hard work away from you and puts all of your computer's updates in one place. It will help you detect and download drivers for your hardware and software, all in one position.
It will browse for these updates online and scan your current version to see if yours is up to date.
Then, it will download these updates and make sure your computer is updated constantly.
Keep Your PC Up To Date
The main thing that Driver Talent provides to you is an easy and painless way of getting new drivers. Most of the time, you'd need to check the latest drivers for each component of your computer. From your CPU to your GPU and motherboard, you get all driver updates in one place with Driver Talent.
The installation and use of this application are easy and speedy. When you first install the app, you'll have the option to integrate it into your Windows startup, so you don't have to run it every time you launch your computer. Instead, you can instruct it to launch with Windows.
The app will auto-detect your Windows version when you first launch it. It will help it see whether your Windows is up to date, first and foremost.
Then, you'll have to permit it to run the scans on all of your drivers so that it will search for the latest drivers online for each piece of your hardware.
And when there's something new, it will download and install them automatically.
Conclusion
Keep your computer up to date automatically with Driver Talent.