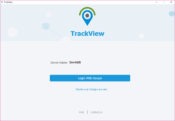 If you are concerned about the security of your family, your home or other such places, then you can utilize this application to keep an eye on the surroundings every time. TrackView allows you to connect the cameras with your Android device through which you can see the real-time activity without any problems. You do not need to install any camera. You can connect the devices with a camera to your Android phone by using this application, and you will be able to use the camera of these devices to know what is going on.
Moreover, you can even have access to the device location by using this application. It would work for all the devices that are connected with the application.
With TrackView, you can even record the video. A notification can also be provided to you if any of your devices is not working correctly, so you can know whenever there is a problem. Another exceptional feature of TrackView is its ability to allow the audio conversation between different devices.
TrackView is an efficient application to know what is going on in your home with many features to facilitate the process.