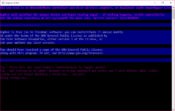 If you plan to turn your Xbox or PlayStation controllers into a pointing device, consider Gopher360. If you are a gamer, this tool allows you to use the gamepad on the traditional keyboard and mouse.
You can use this tool to handle your computer directly from your controllers. There are many applications that can help you in doing so, and one of these apps is Gopher360.
Controlling your PC with your gamepad is an easy thing to do. It can help you turn your Xbox or PlayStation controller into a pointing device with basic keyboard functionality.
Thanks to Gopher360, you can control your computer without any significant effort. The setup is straightforward because you only have to use the gamepad analogs to move the pointer and the buttons to click like a mouse. Some buttons share a keyboard function.
Various control types can serve as a keyboard. Some default controls are assigned to various events on your computer, and you can easily use these.
Gopher360 doesn`t have a standard Graphic User Interface but comes with a Command Line Interface instead. After you launch it, it displays a bunch of information on your screen, letting you know that the app wasn`t started with Administrator rights.
It allows you to remap controls on your gamepad to emulate mouse or keyboard-specific commands.