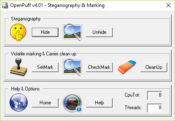 Encrypt your files with OpenPuff, a powerful encryption tool that will help you wrap them into encrypted files and then send them safely to other users.
You can hide your real data and keep it protected from anyone else but the person you're sending it to. It will encrypt your file with special protection, keeping your information safe and hidden.
You'll then be able to send it to other users without worrying too much about it being open or seen by others.
Advanced Encryption
OpenPuff comes with powerful encryption for your files that will help you make sure you're protected and keep your files safe. It uses steganography technology to hide your most important files like images, audio, or video files.
It is helpful when you need to send confidential information that you don't want anyone else to see.
Select the files you want to encrypt and upload to this application to protect your file. You can use various features inside, like steganography, the most used tool.
You will also set up a password for the file, making them even more protected with other tools here.
Maximum Size of Up To 256MB
You should know that this application will only support files up to 256MB. It might be useful for some simple text files, but if you have larger images that take more space than that, it might not be the most practical tool to use.
When you're done with encryption, you can select to send the file to your intended recipient. You must choose the recipient, but the other person must also know the credentials to access the file if you set them up.
Conclusion
OpenPuff is a powerful encryption tool that will help you keep your files hidden and protected.