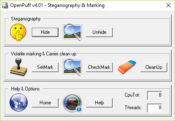 You may need to hide some data on your PC, and that is why you can use OpenPuff because it is going to hide data so that other users that are using the same PC can`t see it.
You can hide any confidential data you want on your PC, and no one is going to notice the fact that you did so. The OpenPuff program was designed to protect data into regular files such as images and even audio or video files.
If you want to send someone some secret data, you can make use of this OpenPuff because it protects you and the person who is receiving the hidden message. The interface is simple, and you can easily understand it because all of the steps are explained.
The obfuscation algorithms are robust (256bit+256bit symmetric-key cryptography, 256bit symmetric-key data scrambling, 256bit symmetric-key data whitening) being almost impossible to decrypt.