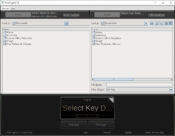 With FinalCrypt, you can encrypt your files and programs using large cipher files that can't be broken using a brute force attack, allowing you to protect your data and then decrypt it easily as needed.
FinalCrypt is a Java-based program that will suit you well if you need an effective way to secure your files and make them inaccessible.
It will use large cipher files to encrypt your data, which means that it will be near impossible to break into the files that you've encrypted.
It would require one to have access to the particular file, or else the attacks would fail.
Simple GUI and Effective Features
It features a relatively simple UI for the type of application it is. Of course, it's better to know such tools because some advanced features might make using them tough.
However, the GUI makes it much easier for you, even if you don't know too much about encryption.
Secure One or More Files
With FinalCrypt, you can encrypt one or several of your files simultaneously. A two-panel design is typical for most file managers, and you'll be able to select the file or folder you want to encrypt and select the cipher file from the right panel of the tool.
Then, you can select to encrypt just one file or several of them simultaneously.
Then, once your file is encrypted, it will have the BIT extension. It will mean that these files won't be accessible to anyone except for you with the file required to unlock them.
It is great because many people want their files more securely protected than just with a password or other credentials. Once you need your files again, you can decrypt them with this tool again.
Conclusion
FinalCrypt is a powerful solution if you're looking for an effective way of encrypting your files and making them inaccessible to other people who might want unauthorized access.