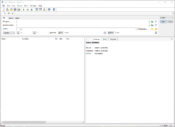 If you're always struggling to locate files on your PC, then there are many software applications currently on the market to help you out. Agent Ransack is one of them. It allows you to perform an advanced search of your computer to locate the files you're looking for. Based on your search criteria, this app will try to find the files you're after quickly and painlessly.
Quick and Smooth
Are you tired of waiting for the Windows Explorer to find your preferred file? No longer, because Agent Ransack comes to your rescue immediately. Type the keyword of the file you're after, and set other criteria that will help the app locate the file. If you search a large partition, expect the app to take some time to find your file.
Search Files via Criteria
If you know a few more things about your file, then you can set some criteria to help the app find the file faster. That's if you have slightly more expertise in this area. You can target files by approximate file size, by when you created the file, the estimated completion date, and other criteria. Then, the software will show you the files the app found, and you can preview the contents of files without even leaving the app.
Conclusion
Finding files on your computer's hard drive can be a chore. But with Agent Ransack, that process is made easy. By performing a simple search or a more advanced search, you can locate your favorite files without scrolling through partitions madly.
You can quickly locate the files on your computer with the help of this application. You can set standard and advanced search criteria to find your desired files on the computer.