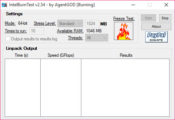 If you have an older version of an Intel processor, then you can use this application called IntelBurnTest to identify how well your CPU runs under stress and gauge it more accurately.
IntelBurnTest is a simple application with a relatively old-school interface, as it is based on the app called the Intel Linpack program.
The application's main purpose is to help you make sure your Intel processors are running as well as they should, as you put more stress on them during the test to find out what the numbers say.
For Older CPUs
You need to know that the application is mainly based on Intel processors but will also work with some AMD ones. It's primarily made for older processors, though, and some of them include Intel Core 2 Quad 600, Intel Pentium III, AMD Athlon 64 X2, AMD Opteron 165, AMD Phenom II X4 940 Black Edition.
However, it can also work on newer CPUs, and it's just as reliable as the older ones. It will even work with some i5 processors of the newer generation, although you might find it inaccurate for the latest processors.
Before you run the application, it's important to note that your CPU is cooled down and not stressed beforehand.
Test for Stability
With IntelBurnTest, you'll learn whether your CPU and system are as stable as they should be. You will first be able to configure the tests made on your computer, as you will be able to determine how many tests to run, what stress level you'll use, and much more.
After that, you will get reports that you can use to gauge the situation inside your computer. These messages will contain brief information about the test, presenting an idea of your system's stability.
Conclusion
IntelBurnTest is a useful app for older CPUs to test their stability and see if they run well.