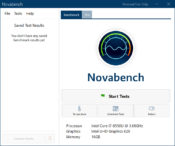 With NovaBench, you will benchmark your computer and recognize whether the internal parts of the computer are working as they should be. With these benchmarks, you'll be able to test and benchmark most of the hardware fixtures inside your computer.
Benchmark your computer to identify where your hardware can be improved and recognize how well your hardware is currently doing. Both professionals and beginners can use it.
Sleek and Intuitive Interface
When you first launch NovaBench after the installation, you'll see that it has a modern and sleek-looking interface. Inside this interface, you'll already be able to see all the details and information about your computers, such as your hardware – the CPU, GPU, motherboard, memory, and more.
But you can get into more detail and open up windows for your hardware options. You can start viewing your CPU or GPU information in more detail, such as the temperature and the performance.
You can do that by clicking on the desired piece of hardware, and then you should be able to get all the details there.
Gather Performance Information
You can test your CPU, GPU, and other parts of your computer. It employs more modern and well-developed tests and benchmarks, which will give you a better idea of how these components perform. You can also start benchmarks to test each of your components.
After the tests, the application will provide you with the right reports for each component. You will get complete details that are viable for each component.
You can select to test all of the components simultaneously, or you can also try each one individually. Then, you'll see how it performs and whether it needs to be optimized.
Conclusion
NovaBench is a great tool that you can use to test your components using the tool's benchmarks. It's an advanced and modern application that's quite easy for everyone.