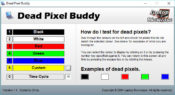 There are always some applications that are best described as ingenious in their approach to a problem. Dead Pixel Buddy aims at pointing out the simple fault in the plasma and LCD screens that a particular pixel is faulty. It is the simplicity of approach to finding the malfunctioning pixel that is to be noted here.
The change of background color to the more in-depth and contrasting shades ensure that any defective pixel would stand out by its darker shadows. This straightforward approach does save time which the machine would have taken up if referred to the repair shop. If there is a strong point of the application here, then it is the simplicity in the approach to identifying the faulty pixel.
With the little requirement for any additional software tools or hardware of any kind, the Dead Pixel Buddy can be put to use practically anywhere. Even while on the move or traveling. Thus the individual can be assured of a quick service from any location. The strong point of the software is that it can be deployed with little of technical ability and this alone is going to prove a winner in the final reckoning.
Just the change of color can more than pick up the dead pixel, even to the naked eye. The rather innovative thinking cannot be compared to anything else that has been put to use in similar situations in the near past.
It would be very wrong to assume that the Dead Pixel Buddy is the end of the road as far as detection of the dead pixel. Future developments would require the picking up of the malfunctioning pixel much before it reaches the critical stage. The programs can prove to be a reassurance to the doubting worker who would want to have their system checked from time to time.
The issue of dead pixels is a real issue for those working in image processing and is related fields. To have such a convenient system to detect the defective pixel as the Dead Pixel Buddy ensures peace of mind.