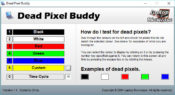 Some applications are always best described as ingenious in their approach to a problem. Dead Pixel Buddy aims to point out the simple fault in the plasma and LCD screens that a particular pixel is faulty. The simplicity of the approach to finding the malfunctioning pixel is to be noted here.
Buying a new LCD monitor can be exciting, but you might sometimes want to check it before installing it properly. Dead pixels are quite common with new products, and just one pixel can ruin your monitor's entire experience.
You can do that by putting your monitor to the test with an app like Dead Pixel Buddy. This application will put your monitor through benchmarks and tests that will determine whether there are any dead pixels.
It's a lightweight tool that can be deployed instantly and will provide you with reports about your monitor.
Lightweight and Simple to Use
Dead Pixel Buddy can be deployed almost instantly. You can launch it from your USB drive, or you can choose to start it from your computer's drive. It will enable you to start performing these tests almost immediately.
It has a nice, intuitive graphical interface that will enable you to find what you're looking for easily.
Use Custom Colors and Fix Pixels
One of the main ways that you can use this app is to start using custom colors. You can select the color you want, and the app will fill your screen with that color.
Based on that, you'll be able to see if even the smallest pixels are broken, which is nice. You'll be able to identify them quickly.
Luckily, dead pixels can be fixed, but you need to recognize them first. You can have it repaired or buy a new monitor if you find any dead pixels on yours, which is not the most pleasant thing in the world – or get used to it.
Conclusion
Dead Pixel Buddy helps you find and recognize dead pixels quickly with simple use and interface.