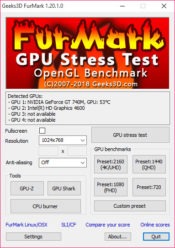 If you are looking for a tool to test your graphics card's functioning, then FurMark is a useful tool designed for this purpose. It works by heating the GPU through excessive task instructions, measuring the level of activity, reliability of tasks, and other such tests to analyze the performance.
The instructions for performing the algorithms are the essential task assigned to the GPU for checking the activity level. It is considered one of the benchmark tools designed for this specific purpose.
You can record the GPU temperature and other measures involving its performance in a specific file, which can also be retrieved later for comparison. It is available to run in the windowed mode or full-screen mode. You can make a choice depending upon your needs and the other functions being carried on your system.
However, one of the aspects that have to be adequately analyzed while using FurMark is that it works with the particular type of hardware and an associated set of software. If you lack any of this software or hardware, Furmark might not work.
FurMark can help you in analyzing the performance of your graphics card. It is known as the stress tester for your GPU as it overheats it to allow you to examine its performance.