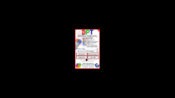 Do you have a lot of monitors attached to a network, or is it old enough that its pixels are not in the appropriate condition? In both these situations, the use of the Dead Pixel Tester is highly workable.
Firstly, the application interface is quite colorful, so you can be attracted to use it often. Secondly, the same colored interface is the reason for making its use and interpretation easy.
Because the interface allows you to select different colors for different situations of your monitor pixels, in case of any change in the tone of the pixel, you'll be automatically informed of the problem in the pixel.
However, you don't need to use solid colors only. You can also go for different patterns available in this application. In other words, it facilitates you in all the possible ways that it can.
Through Dead Pixel Tester, you can find the problems in the pixels of your monitor every time in a matter of seconds.