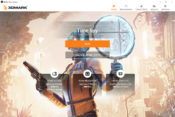 3DMark is the industry-standard benchmarking tool for ensuring you can run the latest games and recognize the power of your computer. It allows you to check your computer's and graphics card's performance.
Video games are starting to push the limits of technology and hardware. With the new generation of games, the graphical demands are getting more powerful.
It means that older computers are becoming obsolete and will not be able to meet the latest games' demands.
To test if your computer can run the latest games, you can use a benchmarking tool like 3DMark. It will test your computer through rigorous tests to test your graphics card and your entire computer.
Visually Pleasing Interface and Tests
3DMark is known for its nice graphical interface and neat benchmarks, making it easy to estimate your computer's power.
The interface has some nice graphic elements, as it's one of the more visually-pleasing benchmarking applications. You have a neatly organized menu with tabs that make it easy to make what you want.
Compare and Test Your Computer
The main feature is the benchmarking tool, one of the most sophisticated tools you can find. It will put your computer through demanding tests with developed and modern graphical elements.
It is a complete visual experience that's very nice to look at, although many users will be more intrigued by the results.
You'll always have an FPS counter at the top of the screen, allowing you to see how your PC is doing. You can also customize the tests and test different aspects of the performance. You'll have complete control over this.
After the tests, you can share them online and compare them with other people's and your friends' builds, too.
Conclusion
3DMark is one of the best benchmarking tools for testing your computer and recognizing whether it can run the latest video games.