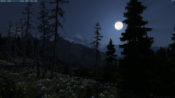 Valley Benchmark  is a good option for the game lovers who want to evaluate their current PC graphic capabilities to play the games. It allows you to analyze the performance of the hardware components of your computer.
Its neat interface makes it possible for the new users to utilize all the features of this application after thorough exploration. Graphics quality is one of the most critical aspects of any game. Through this utility , you can analyze DirectX, stereo 3D, number of monitors, anti-aliasing, resolution, and general quality as some of the things that can be considered for analysis and benchmarking.
Additionally, sound management and audio control are some of the additional features that you can evaluate using the Valley Benchmark. All these tests can be performed through detailed and beautiful scenic depiction where you can explore various aspects and dimensions using mouse and keyboards. In the meantime, the pressure put on the components of your computer can help you in knowing the performance of your system.
You can even save the performance and results of the analysis, so you can fix the performance and use these figures for comparison purpose in the next analysis.