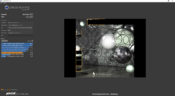 Cinebench is an excellent tool for evaluating the performances of CPU and video card for your computer. It is a real-world cross platform that tests the performances, and it offers the user all of the info he wants to know regarding his personal computer. This one is based on MAXON's award-winning software Cinema 4D which is currently used by many people who want to show off their skills.
MAXON makes some known tools among the production houses worldwide, and it is well known for 3D content creation. It has also created some of the world's most known movies, such as Iron Man 3, Oblivion, Prometheus and even Life of Pi. It means that if you choose Cinebench, which has been made by the same company, you will enjoy a helpful tool that will work in any situation and can be used to compare CPU and graphics.
It can be used to analyze these graphics through various platforms and systems. This tool is entirely free, and you will love it. And the test scenario will use all of the system's processing power to render some photorealistic 3D. You should also know that this tool will measure systems with up to 256 processor threads.
The test result will be represented in points (PTS), and the higher the number will be, the faster your processor is. If you want to know a few things regarding your computer power, this tool made by MAXON is a test tool that you will need to have in your arsenal.
Any computer owner can evaluate her or his system, and as you will see by using it out, you can quickly test out the specific functions of your GPUs and CPUs. It will incorporate users' commons tasks within Cinema 4D to promptly measure the system's performance.
If the user wants to run some special test procedures, this one will provide a command-line option. This command option will allow the users to run automated test procedures within this tool.