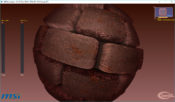 MSI Kombustor is a simple application that will help you test your graphics card and get more details about it and more information on some other components of your computer.
When you buy a new graphics card or want to test the existing one, you'll need a tool like MSI Kombustor. It's a tool designed to help you evaluate your graphics cards – primarily MSI cards.
It offers several tests and benchmarks to help you establish whether your graphics card is up to scratch. It will also monitor other system components.
Simple Interface and Easy Use
You'll notice that MSI Kombustor is a somewhat simple application focusing on ease of use. It has a simple interface where you will see your system's components as you start it up. It will detect your graphics card and display the main screen's info, including the device ID, driver, and OpenGL information.
Other measurements include temperature, load level, and so on.
Test Your Graphics Card
The main feature of this tool is the ability to test your graphics card. You can try it as thoroughly as you want or conduct simple and quick tests to get a good idea. You'll have three 3D tests available to you. The first one is the Wavy Plane (GL2), and there's also the Fractal Frame test (GL3), as well as the Death (GL2) test.
All of these will test the stress levels of your card and the temperatures and other metrics when you perform the tests. It will display the results at the end and during the test.
You can do them in 720p or 1080p, depending on your preferences. Once the tests are done, you can check out the detailed results on a separate website.
Some more advanced tests help you test other specifications and capabilities of your graphics card.
Conclusion
MSI Kombustor is an app with a simple interface that helps you test your graphics card thoroughly and see more information about it and other components you have on your computer.