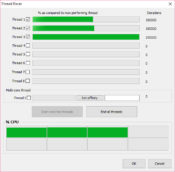 Thread Racer is an application that helps evaluate your computer CPU's performance. Using it, you can use multiple threads on a specific processor or a single thread on numerous processors to find the actual response of your processing unit.
This application aims to satisfy technical experts so that with some basic technical knowledge, you can easily analyze the performance of your computer.
The application has simple settings and has been designed to work specifically for achieving a single purpose, thus reducing the level of technical expertise required for its operations. It comes in an executable file so that you can take it to any system.
With Thread Racer, you can support eight CPU threads. The management of options like running multiple threads on the single processor or running a separate thread on multiple processors is one of the settings that you can adjust.
All the options are available in the main window to provide you with easy access to the numerous options you can use.
Choosing the cores for testing is possible. Additionally, each thread's total iteration and usage level are provided to you as the user. It is lightweight compared to the other applications available for this functionality.
Thread Racer is an application to test the performance of your computer CPUs by allowing threads to test particular cores.