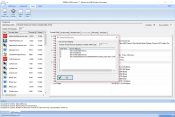 KillProcess is a great software to get information about your running processes and can help you modify or terminate them with a single click.
Also, you can identify the processes that consume more resources than necessary and kill them.
The most important thing for a computer is to have excellent performance. Many other processes start without your permission when the operating system is running. You can terminate these processes using the default Task Manager or use this useful tool, KillProcess.
The interface makes your job more comfortable as you can identify each application running on your PC. Just click on a detailed process, and immediately you will have all the information you need on the right side.
Many processes are running from an unknown path, but thanks to this app, you can see exactly the selected application's path.
You will see the process info, with details like processing running time, creating time, and the memory used until that moment. Also, you can identify the process using the number or the name.
In the top section of the interface, you have three essential buttons, Kill Process, Refresh, and Exit. Select a process and press the Kill button immediately. Your computer's performance will be improved, and you can have more resources to use with your running applications.
KillProcess is a handy application; everyone should download and install it on their computer!