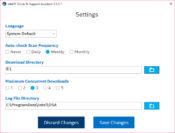 Do you have Intel hardware? Then you can keep them up to date with Intel Driver & Support Assistant, which is meant to help you get updates easily and deploy them on your computer to keep it running optimally.
Intel users know that having their hardware is important. They come out with constant updates, making it a bit tough to stay up to date with all the continuous changes.
Whether you have a CPU, graphics cards, NUC, or desktop boards from Intel, you might want to keep them updated.
You can do that easily with the help of Intel Driver & Support Assistant. As the name says, this utility tool will provide you with all the latest updates for your Intel hardware.
You will be able to quickly download all the newest updates to avoid potential issues that come with outdated hardware.
Easy to Use
This utility tool will enable you to update in just three simple steps. First, you will need to install this application on your computer.
Then, you'll want to scan your computer for the hardware you have on the computer, which will give the app a better idea of what gear you have to search for updates.
Once that is done, the app will start automatically searching for updates. You'll see the list of available drivers and the driver you have for the specific piece of hardware.
Upon that, you will be able to decide whether to update your hardware and which pieces of hardware you want to update.
Manual Search
If the application cannot find the drivers you're looking for, you can also perform a manual search in the Intel database. With it, you'll be able to find all the versions of the hardware you're managing, including older versions.
And if you want, you can deploy those, too.
Conclusion
Intel Driver & Support Assistant can be highly useful to keep your Intel hardware up to date.