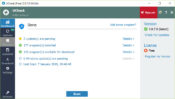 Check your applications to see if they are up to date with Ucheck, which will help you determine which applications on your computer are outdated and provide you with all the relevant information you'll need to update them.
When you have many applications on your computer, one of the main concerns is that you'll need a way to keep all of them up to date, especially the ones you use regularly.
That can be a chore since there might be many apps you want to check, and it can take a lot of time. But you can find a better way of doing that.
With Ucheck, you'll be able to check all of your applications simultaneously and see if there are any updates for them easily.
It can be useful to help you save a lot of time and effort that you would otherwise need to update your apps manually. You'll easily see which apps need updating and all the instructions to do just that.
Analyze and Find Outdated Apps
It provides an easy way of detecting and scanning your apps on your PC to see if they're up to date. Some apps get updated regularly, so you might need to check them more often.
However, the app will do that for you as you can automatically set it up to work, taking a lot of time and effort from you.
You can perform a scan in seconds with just one click, providing you with all the relevant results.
Then, once the results are ready and one app needs to be updated, Ucheck will let you know. It will also prepare you with which files you need to download when updating the app.
Uninstall Apps
What is more, it can also play another role on your computer. That is the role of a software uninstaller, as it will check all of the apps you have on your PC, and you'll be able to uninstall them easily.
Conclusion
Ucheck is a useful app to help you keep your apps up to date all the time.