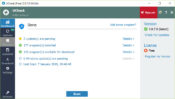 If you want to keep your computer up to date with latest drivers and applications versions, the UCheck is for you. The working of this application is very simple. It analyses the number of programs installed on your computer. Once, it is done, it scrutinizes them for their level of the update, as compared to the available new version. It can also provide you with the other options of the programs that you can use in place of the outdated ones.
You can change the language of the application, providing you with greater ease in using it and exploring all the features of the application. Additionally, it has two different options. You either can use it free or can have the paid mode for usage too.
However, the problem with this application is in term of driver detection. UCheck cannot detect the drivers accurately. Neither it can provide the detail of the driver that it proposes to install after analyzing your system.
UCheck is a facility that can analyze the outdated applications from your computer and provide suggestions for the installation of the updated version or better applications that are available to the same function.