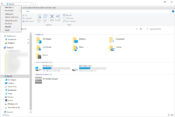 Are you tired of the Windows Explorer interface? If you're losing time with certain tasks within the explored, you can use Clover. It's a tool that adds tab support to Windows Explored, which helps you work faster and more efficiently.
It has become a famous tool by now – many users who have a Windows operating system like using this application. The explorer's standard interface is already decent, but it lacks some options for saving time and taking out the pain of repetitive processes.
You can use Clover to help you save time and become more efficient. You can work with multiple folders in the same window, enabling you to add tabs to the Windows Explorer interface, which can be a time saver for many people.
You'll also create bookmarks with the most commonly used features you use within Windows Explorer and access them instantly.
Integrated Into the Windows Interface
You won't see many big changes to the Windows Explorer interface when you download Clover. That's because it's integrated into the interface. You can still access the many options Windows Explorer offers, although you can use some additional features that were not accessible beforehand.
Namely, you'll have the option to view the folders in tabs. Another great feature of this tool is that it helps you create bookmarks with the most commonly used folders, destinations, and even websites you use within the Windows Explorer interface.
So if you open certain folders often, you can add the shortcut to the Windows Explorer interface, and this shortcut will be with you when you open every file in the interface so that you can open it easily.
So if it's a folder, a file, or even a website, you can access this website with just one click on the shortcut without doing it the long way.
Increase Your Productivity
As you can see, this small but effective change can greatly impact your performance with Windows. Thanks to this simple but effective integration, it helps you save tremendous amounts of time.
The look and feel of the Windows Explorer itself will stay largely unchanged. What will change is your ability to find what you're looking for instantly.
It saves you the time and effort of unnecessarily opening and closing folders and files. All can be done with just a click, and your favorite folders or files are open.
It's a great productivity tool that many people use with Windows.
Conclusion
Clover is a simple but effective tool that helps you save time and be more productive with Windows Explorer.
It lets you instantly open files, folders, and URL addresses by adding them to the interface as shortcuts. It provides a tabbed interface to the existing Windows Explorer interface.