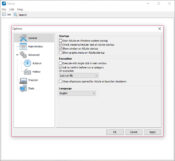 If you think accessing files and programs on your computer is the fastest by using hotkeys, you're missing a trick.
Some applications, such as ASuite, allow you to launch applications and .exe files by simply pressing a combination of keys, also known as hotkeys. It allows you to ditch shortcuts and have a cleaner desktop once again.
Create a List of the Most Accessed Files
The workspace you'll be able to create with this app is straightforward. You'll be able to organize all of the most accessed files into the workspace, saving you time and making it easier for you to access files quickly.
To simplify the process, you can simply drag files onto the main menu or screen. That way, you'll have all your most popular files in one location.
Alternatively, you can populate this list by adding information more traditionally: adding information about the file, such as the custom name, home page, descriptions, and other details.
Use Hotkeys to Launch Apps
If you're spending too much time opening and finding shortcuts for your desktop apps, then this application is perfect for you. You can set up hotkeys for your most popular applications close or minimize this app.
From there, when you need to open one of the applications, you can press this combination of keys and get it open.
For easier access, you can set the app to launch when you open your computer so that you won't even need to spend time opening this app. All you will need to do is press the desired combination of keys and open the applications the combination is set to.
You can also make recurring changes to the schedule of opening apps, which can be done with this tool easily.
This app is a massive time saver. That's especially true if you have many applications on your computer and spend a lot of time browsing your desktop, trying to locate the shortcut you're looking for.
Instead, you'll be able to use a variety of hotkeys and button combinations to conserve time and make the most out of your work.
Conclusion
ASuite is a lightweight and fantastic app that lets you set up hotkey combinations for opening your most popular applications and executable files on your computer.
You can do that by dragging your most popular apps into the window and then setting up the combination for the app to open it.