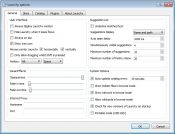 Launchy is a desktop suite capable of indexing all start-menu items and more. With this application, you will be able to launch all your documents, including project files, bookmarks and even folders at the touch of a few keys. Wondering how it works? Well, all you are asked to do is type in the first letters or word of the desired program or document and hit enter.
For example, if you type "word" and hit enter, Microsoft Word will pop-up and you will have gained a few extra seconds.
And let's not forget about the plug-ins, useful when one needs to kill running tasks, apply some math knowledge, index system folders, cut down the power or switch between tasks.