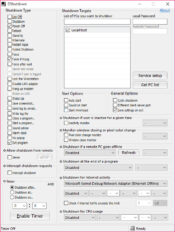 DShutdown is a scheduling app that will help you organize computer shutdowns based on user inactivity, a lack of Internet activity, or due to your shutdown request or other configurations.
It is a free utility app that allows you to configure how your computer is shut down and when it is scheduled to close when it's inactive.
It helps you manage the power and the resources controlled by the computer, and it saves you battery if you're running a laptop by shutting down the computer when you don't need it.
Free and Portable App
DShutdown is completely free to use, and it's also highly portable. That's because you don't need to install the app. Instead, you can save and run the program, and you can do so on just about any PC without too much hassle.
And because it leaves no traces, you won't even know you've installed this app on your computer. Another great thing about this app is its interface.
It's a very simplistic one, and it focuses on productivity instead of on looks. That makes it clutter-free and easy to navigate, even if it doesn't look very modern.
Power Management Features
You can schedule your computer to shut down when you don't use it. At the same time, you'll also be able to schedule different power management features, such as locking, logging off, hibernating, and rebooting your computer after other triggers.
Other functions include disabling the LAN adapter, waking up, hanging the modem, writing log files, etc.
At the same time, you can perform this action for different computers. Most of the time, they will apply to the local engine, but you can also run these settings for any machine connected to your desired LAN environment.
It will automatically scan the local network to see which computers are connected.
Conclusion
DShutdown is a powerful yet simple app that lets you control the shutting-down sequences of your computer and all computers connected to the local network. It's simple and effective and won't take too many of your resources on the computer.