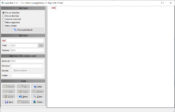 Launcher is an application specially designed to launch different programs, files, and shortcuts without involving any effort. It provides an easy-to-use interface that can ensure that launching the required program would not be an issue for the users.
This clean interface also ensures that beginners and experts can use the application properly. Moreover, it is lightweight, so using it continuously would not strain your computer's resources.
You need to use this utility's drag-and-drop feature to add the files to the launching list. By adding the file to the list, you can edit the directory, path and the name of each file. So, by using the files you have added to the list, you can perform some functions on these files within a few clicks.
Some functions you can perform on the files include sorting them, deleting them, saving them with the current configuration settings, launching them, and undoing the settings.
Launcher does not require excessive configuration for managing the functionalities of this application, so there are no chances for beginners to mess up while using this application.
Overall, Launcher is an application that can help you launch files, programs, shortcuts, and folders with ease.