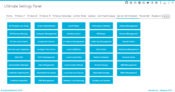 This application provides you access to different configuration panels and the shortcuts of the operating system. Ultimate Settings Panel offers a holistic experience for users who need to make changes to Windows settings regularly.
It has all these settings present at a single place. You can access them from a single click and choose the modifications required. Tabs, shortcuts, and a list of settings are available in the application window. So, switching between your operating system's shortcuts or the configuration of your hardware would not be a problem anymore.
Apart from the hardware and operating system's settings,  it also allows you to manage your Microsoft Outlook settings. Additionally, Advanced Windows settings and PowerShell options are also at your discretion. You need to open this application to access all of these features and settings of your computer.
It works as a portable program, so you can run it on any computer through USB and manage that computer's settings according to your needs.
Ultimate Settings Panel provides a fast and easy setting management opportunity for the users. Simple computer settings, advanced operating system settings, and Microsoft Outlook administration are possible through a single application.