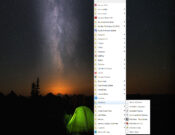 Spencer was designed to help you get a feel of the good old Windows XP back. This operating system was, without a doubt, one of the most successful launches by Windows. It's still one of the more popular operating systems from this habitat.
The sad thing is that it's mostly obsolete because Microsoft doesn't update it, and some of the features are quite old.
But, some parts of Windows XP still hold up very well, even today. One of the areas where that is true is the Start Menu. It was great and, in many ways, even revolutionary.
And many people have gotten so used to it that when they switch to a newer version, they start to miss it. Spencer allows you to integrate it into more recent Windows versions and use it again.
Portable Application
When you start using this app, you'll see it's fully portable, so you won't need to install it. Instead, you only need to use the executable file, which you can place in almost any folder on your computer.
It will provide users quick access to some of the most popular Windows XP Start Menu tools. These tools include the Calculator, Notepad, Snipping Tool, Sticky Notes, XPS Viewer, and WordPad.
You can also access the Administrative tools. From there, you can open the Event Viewer and the Defragmenter.
Other tools are in this category, such as Task Scheduler.
Easy to Use
Spencer is very intuitive and easy to use. Because it's lightweight, you'll be able to use it fast, and with just a couple of clicks, you'll start to open your favorite apps.
You can also launch the Control Panel form and the Command Prompt window.
Conclusion
Spencer allows you to use the Windows XP start menu tools in one condensed place. Access all the tools and features initially available in the Windows XP Start Menu with this user-friendly and accessible tool that lets you get your old Start Menu layout.