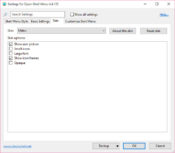 If you are fond of the layout of the previous Windows version but need the functionality and efficiency of the latest one, then this application can handle that for you. Open-Shell allows you to adjust your start menu and even has a start button in the latest Windows. Many style templates for handling your start menu are available. The ultimate purpose of which is to provide you with enough power to adjust the menu for enhancing your productivity.
Through Open-Shell, you can even change the skin color of the Start menu, making it look according to your needs too. You can pin programs in the menu, view the recently used or frequently used applications. Apart from the Start button, you can also expect the toolbar and the status bar to be back, making it highly efficient for the users who like the older layout of the Windows operating system.
Open-Shell provides the users with the chance to adjust their start menu according to their needs to be more productive.