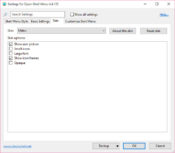 Open Shell allows you to change the appearance of your Windows Start Menu so that you're able to use your preferred way of using the Windows operating system.
Open Shell is a fork of the Classic Shell, which allows you to change the Start Menu's appearance and behavior. This tool's main thing is that it gives you complete flexibility and control over what gets shown in the Start Menu and how the menu itself looks.
The tool is appropriate for Windows 7, 8, and 10 users, whereas Windows 2000 and XP users will not benefit from it.
Change the Start Menu
To start with, you'll see that Open Shell has a tab-styled interface where you can make some changes to the Start Menu. Most of the settings are under the Basic Settings tab, where you can alter the behavior of your Start Menu. You can also change what some button presses do, such as Shift or Ctrl combinations. There are also other settings about the Start Menu that you can use here.
What is more, you can use Advanced Settings, where you can access even more complex settings, although these are better for power users only. The app will not consume many resources from your computer. The best thing is arguably the flexibility that comes with it, as you're able to make as many or as few changes as you want.
Change the Appearance of the Start Menu
If you want to have a more classic look with your Start Menu, you can certainly do that. You will have complete freedom over how your Start Menu looks – you can customize it as much as you use the available presets within this tool.
These are available in the form of skins, where you'll find a wide variety of different skins.
Conclusion
Open Shell is a tool that lets you change the behavior and the appearance of your Start Menu. Whether you want to change the appearance or make bigger shifts and changes, the tool will help you make them.