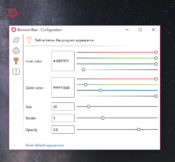 Biniware Run enables you to access important websites, applications, and files or folders thanks to this application that acts as a circle that you can place on your desktop to access them easily.
Productivity is hugely important, and we spend a lot of time doing things we don't even know are costing us time. One of them is searching for applications that you often run on your computer.
You can save quite a lot of time if you launch these applications from one spot without searching for them.
In essence, this is a fairly simple application to use. It acts as a circle or an icon on your computer to provide shortcuts once you move your mouse over it.
You'll find shortcuts to websites, applications, files, folders, and other things you often tend to access in it.
Tiny and Simple
Biniware Run is a very simple application in its essence. It will compile all of the applications, folders, and files you want to run into a circle that you can place on the desktop.
It will allow you to instantly run all of the applications inside that circle without having to search for them on your computer.
Access Apps and Files Instantly
It is made with simplicity in mind. It is aimed at every type of user, and it will save you a lot of time you would otherwise spend searching applications on your computer. You'll see it as a circle on the main screen where you can access the files you're looking to run with just one click.
You can configure which files you put into this circle with full freedom. You can add anything from files, websites, applications, folders, and other things that you often access when you work or use your computer.
Conclusion
Biniware Run is an excellent app if you want to save time and instantly run applications, files, and folders from your computer's desktop.