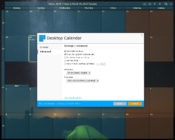 Take notes, set reminders, integrate a calendar and edit it, and manage your time easily from your desktop with the help of DesktopCal, which will help you manage your time efficiently from your desktop.
Working from home has become the norm, and staying productive is getting harder and harder, especially if you have meetings to attend and other things to worry about that are going on around you.
In that case, having reminders set up now and then can be useful, especially if you're working around your tight schedule.
And DesktopCal is a great application to help you stay productive. It's a really simple application at its core, as it will offer you several functionalities for your desktop where you'll be able to create reminders, set up your calendar, manage your time, and take notes easily.
It's a complete tool that won't take up a lot of space and resources.
Lightweight and Easy to Use
You'll see that the application will initially look more like a calendar when you open it. It can act purely as a calendar where you can enter events and take notes onto the calendar.
But it can become much more than just that, as it will make it easier for you to manage your time.
It's also highly customizable, as you can change almost every aspect of this app.
Change the Looks and Start Using It
DesktopCal is a very customizable application. You can change the desktop background if you want, allowing you to choose the calendar as your background. Or you can also create your wallpaper by flipping images, although it will be up to you to decide how your desktop will look.
Moreover, this tool's interface will support many different languages, including English, Chinese, French, Vietnamese, and Spanish.
You can also use colors to manage your events, making them easily visible.
Conclusion
DesktopCal is a great application to manage your calendar and create events, set up reminders, take notes, and more in an easy interface that's great for beginners and experts.