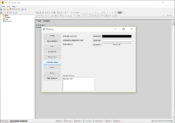 Notes keeping and using general tools is hectic because of the unnecessary features it provides to distract the users from the main aim. Notes Keeper is a particular application that has been designed to help you in taking notes.
Apart from simple writing, you can also insert pictures to the notes. So that you can refer back to it when needed rather than searching the web all over again. Additionally, it is quite easy to use. None of the features is complex enough to restrict a beginner or an expert in the technical fields from utilizing this application properly.
You can save the file as any other application would do for you. Similarly, retrieving the documents is not difficult at all. Furthermore, this utility can also allow you to take notes in groups and provide multi-user access.
Notes Keeper can allow you to search for specific items within a note, so you won't have to go over all the documents searching for any particular term. Notes can also be auto-saved based on the customized time you can set. Such a setting can be important if you are managing something time-bound.
Overall, Notes Keeper can provide you with an opportunity to avail multiple features of writing and editing applications, but with much more ease than the existing tools available.