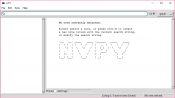 nvPY is a lightning-fast application for taking notes quickly and managing your notes with the help of keyboard combinations. Since we often keep computers open all day, they have become the primary way of taking notes.
Many people often have too many notes they can handle themselves, which is where an app like it comes in handy.
Notes can be ideas, thoughts, or comprehensive lists of things to do or something to remember. Managing them can be hard.
Lightweight App
This application is made for simplicity. You will not have to install it before you start using it. Instead, launch it and start enjoying the application. Then, you can start taking notes by merely picking a new title.
The application interface is clutter-free so that you can focus on the essential notes. It is all about productivity with this app, as you can focus on the work instead of adding fancy graphics or effects.
Finding Notes Made Easy
If you take many notes throughout the day, finding your preferred notes might be a challenge. Luckily, this application has a seamless search function where you can type the string you are after, and the application will find it for you.
With a mouse click, you can activate a case-sensitive search.
There is also the regular expression search mode, which might be slightly more detailed, although it might take longer to find your note.
However, this search type is highly popular as you can search more accurately.
Rendering Markdown or reST to HTML
If you are someone who knows their note apps, then you will appreciate the advanced features this app has to offer.
One of the more demanding features is rendering Markdown content to HTML. Also, you can enable continuous rendering to HTML if that's what you're after.
You can also render reST to HTML with nvPY. All the while, you can do so with some hotkeys of your choice.
Overall, nvPY is necessary for those who like to keep their notes organized and find their preferred notes quickly.