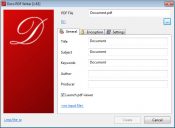 Doro PDF Writer is a popular tool for working with PDFs that enables you to turn any printable document into a colored PDF, adding a virtual printer to the interface of your computer.
There are many different tools for working with PDF files and documents out there. If you're stuck with one tool and you need to replace it, you can opt for another because there are so many options to choose from.
However, some tools offer more features than others, which is why you'll need to pick carefully.
In essence, this is a very simple application that will help you turn other files into PDFs, but also if you'll need to create PDF files from scratch.
It acts as a virtual PDF printer, allowing you to configure and print colored PDF documents with ease.
Edit PDF Metadata
First, we must mention that the application will act as a virtual printer on your system. It means that you'll be able to create a printable PDF document from almost any file you might have and in nearly every tool that you own that has the built-in printing option.
After selecting the file you want to work with, you'll be able to configure several aspects of it. For instance, you'll be able to configure the PDF metadata of your file, which includes title, subject, keywords, and much more.
You can also apply 128-bit encryption if you want to protect your files and only allow access to selected users.
Easy Process
The whole process inside Doro PDF Writer is quite simple. It will work with both small and large documents without using too many of your computer's resources, which is good to know, even if you need to work with larger files.
At the same time, the app always strives to retain the original format and layout of the file, which is quite important when working with this app.
Conclusion
Doro PDF Writer is a good tool to create, edit, write, and convert PDFs.