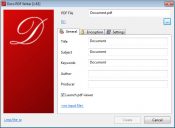 Doro PDF Writer converts any text and image file into PDF in a matter of seconds. Whereas this software is free of charge, banners or additional toolbars and apps won't annoy you. After installation, the PDF tool will act as if you have just installed a new printer on your computer.
In order to transform an e-mail, a website, an Office document, or an image into a PDF file, all that is necessary is to click on print and select this tool instead of the printer.
This converter's advantages are the possibility to create colored PDFs, add highly secured 128-bits encrypted passwords, and prevent copy & paste.