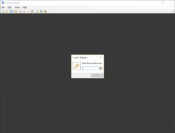 If you are looking for an editor that can help you in saving your work and ensuring safety, then this application is the best. Crypto Notepad is similar to other editors but can allow you to encrypt all your information. All the other options that you can find in a general Windows editor are available in this application as well.
You can change the other settings including the colors, fonts, encryption, and decryption of the entire application. One of the features that can provide security to your notes but can be annoying at the same time is the cnp format in which the files are stored. All the files stored in this format are only opened with Crypto Notepad. So, if you are aware of these settings, you can handle it quickly without any problems. However, if someone else will try to open up your documents, they will probably not able to do it because of the difference in formats.
Key size, change of salt and iteration passwords is some of the other features that you can control. As they are the complex ones, so if you don't have any idea about it, you can leave them, and Crypto Notepad will work correctly even without changing them.
Crypto Notepad is a portable tool for editing the work and encrypting it properly for higher security.