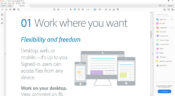 Adobe Acrobat Reader is an advanced PDF reader that provides you with a wide variety of options, as well as some editing features that make this tool the most advanced one on the market.
PDF files are extremely popular in creating and editing a wide variety of text documents that also contain some graphical files and options. To edit them and view them, you'll need a dedicated PDF reader, although you can also view them with other software pieces. However, not all of them have editing options.
But this application is perhaps one of the complete PDF readers out there. It allows you to see and view the PDF files you download and edit.
It has several advanced tools and editing tools that make it one of the most desirable PDF readers on the market currently.
Modern Sleek Menu and Interface
When you first open up Adobe Acrobat Reader, you'll likely feel at home immediately. That's mainly thanks to the simple and elegant interface within the tool, which doesn't complicate the whole process even though it offers some more advanced tools.
If you need some guidance, almost every button comes with additional descriptions to make your life easier.
Edit and Read PDF Files
The main purpose of this tool is to help you view all of the contents of PDF files. It doesn't matter how large or small the file is or how complex it is. This PDF reader is among the more advanced ones out there.
When you view your PDF files, you can close menus and additional distractions to help you focus on the text. Also, you can zoom in to see the file in more detail.
But what's even better, you can edit your PDFs with this tool easily. On the side panel, you can jump to a specific part of the PDF to let you edit it quickly. There are some basic editing options inside the tool, but also some more advanced ones.
Conclusion
Adobe Acrobat Reader is an intuitive PDF reader that lets you view and edit PDF files.