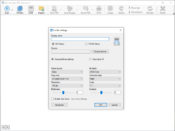 Not Another PDF Scanner 2 is an application to make the scanning process a lot easier with various features available to serve your purpose. You can set up the optimal settings for scanning your documents. Using a single device or setting up multiple devices with different parameters is possible with NAPS2 (Not Another PDF Scanner 2). All the settings you have set up for each of the associated devices can be saved, and later scans can be done in those settings.
Saving the scanned files into PDF, JPG, or PEG type is possible. Moreover, sending the scanned files by email is another possibility that this utility provides to the users. TWAIN or WIA can both be used as drivers while working with this application.
Some of the options for editing the scanned images are available. These include rotating, cropping, and rearranging the photos. Additionally, the brightness and contrast features can also be adjusted for the scanned images.
OCR facility is also supported by NAPS2, which allows you to search the PDF documents. One hundred different languages are supported for this purpose. Individual and business work can be conducted through it.
NAPS2 provides more comfortable scanning facilities to the users with the presence of OCR technology and saves the scanned files into various formats.