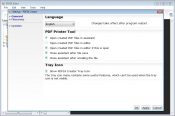 PDF24 Creator is a PDF creation tool that allows you to create, manage, merge, split, and perform other tasks with PDF files, as it comes with a wide array of features that make it possible to make the most out of your PDFs.
PDF is one of the most widely used formats in the world. It creates reports, texts, invoices, and various other tasks. However, working with PDF files might not be as straightforward as it looks. For one, you'll need to have the right tools at your disposal to make it all possible.
One such tool is PDF24 Creator, an effective tool for creating, managing, merging, and doing all tasks with PDF files.
It's one of the most widely used PDF tools on the market, and more importantly, it's free to use, bringing all of the same features you'd expect from more advanced PDF tools to the market for free.
Customize, Create, and Manage PDFs
To begin with, we should mention that it's possible to create PDFs from scratch using this application. It has a built-in file explorer, making it easy to import files into the interface and create them for the first time.
You can add text and various features to the PDF, merge, split, and create PDFs, manage certificates, swap pages across different files, set document security, and take care of other data inside the app.
You'll also be able to change the appearance of the file and add photos to it.
Convert to Other Formats
If you're working with a PDF file but want to convert it to another format, it's possible to do that with this app.
Some of the tools' most commonly supported formats include PS, PCL, PNG, JPEG, BMP, PCX, TIFF, PSD, or TXT.
Conclusion
PDF24 Creator is a widely used PDF tool for creating and managing PDF files, as it comes with various useful tools.