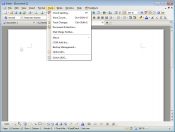 WPS Office integrates three main functions: a word processor, a spreadsheet, and a presentation maker. Free as it is, this suite enlists some advanced features, such as a paragraph adjustment tool, multiple tabbed interfaces, and an Office to PDF converter, which is – alongside watermark and the PowerPoint to Word converter something you can't find in a paid office suite.
Microsoft Office is by far the most popular office suite in the world. It has the most users, and many different users widely use it. However, it has some contenders that offer neat advantages over MS Office.
There are many different choices that you can opt from if you're not a big fan of MS Office.
This application is a suite of office tools that will enable you to create, edit, manage, and work with various files, including text documents, sheets, and more.
It offers a pretty modern interface with all the tools you'd expect from an office suite.
Three Main Tools
When you first download and install WPS Office, you'll need to take care of the license to give you access to all the tools you can use with this suite. Depending on your license, you'll have different tools at your disposal.
The three main tools you'll be able to work with include Kingsoft Writer, Presentation, and Spreadsheets.
As the names suggest, they will offer you different capabilities. The Writer is focused on text editing various documents; Presentation is good for making presentations, while Spreadsheets are meant for creating multiple sheets, as it acts as an alternative to MS Excel.
Create, Edit, Merge and Manage
In essence, this application will offer you all the same capabilities that you'd find in a typical office suite, such as MS Office. It will enable you to create, edit, manage and merge documents and files you're willing to create.
It will support you to work with different types of files, which is useful if you need a more versatile office suite.
Conclusion
To conclude, WPS Office is a suite of tools that will help you with different tasks, including writing, creating presentations, and spreadsheets.