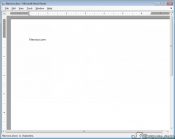 Word Viewer is the best choice when you need to view, print or copy Word documents. The program tackles all file formats common before 2003 and also .docx documents. Lightweight and easy to install, it does its job quickly on any type of computer you might have.
However, with this software you won't be able to do any modification to your documents. On the other hand, if you use the Word Web App on Windows Sky Drive, you will be able to share and modify your documents directly from the browser.
For any incompatibility issues, try using the compatibility pack developed by Microsoft for their Office suite.