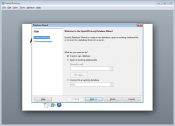 Apache OpenOffice is often seen as the alternative to Microsoft Office. It comes with a fleet of applications that you can use to manage your documents, create new ones, create writing projects, and more.
MS Office is by far the most widely used service for writing new documents, creating spreadsheets, presentations, and much more.
However, one of the main concerns that people have with it is the need to have a license, which can be quite expensive. It means that many budget-oriented users will look to other alternatives if they can.
Apache OpenOffice is one of those alternatives. It provides a great alternative to MS Office while also being free to use.
You'll find all the major tools that are also accessible inside the MS Office suite – a tool for writing documents, creating spreadsheets, presentations, drawing, managing databases, creating formulas, and more.
Powerful Functions to Rival MS Office
It becomes an incredible alternative if you look at the features it has on offer. While it might not be as robust as MS Office in some regards, it still provides all the necessary main features you'd come to expect from such a suite.
Inside the app, you will find all the tools you'll ever need to manage and create your documents. You will be able to choose from several modes of operation: for creating writing documents, for creating spreadsheets, presentations, for drawing, but also for managing databases and creating formulas, while also using all the same features as MS Office.
Budget Alternative
If you can't afford to spend money on an MS Office license, this application will bring everything you'll need to the table. It features support for all the major file types, so you can easily work with them inside this suite, too.
But above all, it's highly affordable, and it's very open, so almost anyone can use this application.
Conclusion
Apache OpenOffice is a highly effective alternative for MS Office, as it will provide you with all the necessary tools and features found in MS Office.