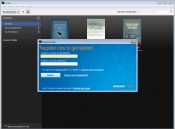 Do you like using Kindle for reading your favorite books? Now you can download the desktop version of Kindle and start reading the books you have on your screen.
Kindle is one of the most popular e-book readers in the world. It's well known for featuring a wide range of available books through Amazon, where you'll find books on almost any topic you desire to read about. Another advantage of Kindle is its portability, as you'll be able to take it with you anywhere you go.
If you want to use Kindle for PC, then this is the application you should go for. It will provide you support for the books you own in Kindle, so you'll need to connect to your Amazon account to get started.
However, it's simple to use and has a simple interface where you'll be able to browse your library of books that you own.
Read Your Favorite Books
Kindle is meant for anyone who has an Amazon account and some books on it. You'll be able to read your favorite books that you own on your account, but you'll also be able to get new books.
Browsing for new books is easy, as you'll be able to choose from categories of books where you'll find many great choices.
Versatile and Adjustable
One of the key features that you get with Kindle for PC is its adjustable nature. As a result, you will have full control over how your books appear and how your library is organized.
For instance, you'll be able to change the font size, set the number of words per line, adjust brightness, set up colors, and much more.
Many other useful features will make your reading experience great, such as the ability to take notes, highlight sections of the text, and also view passages from the sections you've highlighted most often.
Conclusion
Kindle for PC is one of my favorites when it comes to reading books on your PC. It provides you support for your Amazon account and the books you own there.