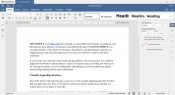 ONLYOFFICE is an Office suite that will help you open documents, spreadsheets, and presentations from different environments and file types. With ONLYOFFICE, you can open and edit various documents, spreadsheets, and presentations, making it an engaging home suite for individual users or an all-in-one solution for small or mid-sized companies.
It can become your only hub of documents and spreadsheets with some practice.
It's a desktop application for Windows that facilitates a variety of document types, providing you with access to viewing documents, editing them, and ensuring your documents get spread easily through sharing and team collaboration.
Visually-Appealing Interface
One of the features that make the app so easy to use is the visually-appealing and sleek interface that this application has. It has very intuitive controls and a fairly simple layout that lets you control almost every aspect of your files.
Another big thing about the application is its wide support for various file types. It will manage file types from your most popular office programs, such as Microsoft Word and many other software applications.
It will support many file types from the MS Office environment, such as DOC, DOCX, ODT, RTF, and even TXT. In addition, you'll be able to open files like PDF, XPS, DjVu, HTML, and EPUB content.
Tab-Based Viewer and Editor
Once your files are opened, controlling the layout and editing of the file is easy. That's mainly thanks to the intuitive layout of the application and the tab-based viewer, which allows you to control every aspect of the editing easily.
You can easily open multiple documents in multiple tabs, making your editing and writing or creation much easier. And this includes text documents, spreadsheets, and presentations, which can all be opened in these tabs.
Once you have the file opened, you can start editing it. Although it might not be as feature-rich as MS Office, for example, many valuable tools will still help you with editing. Firstly, you can customize your fonts and paragraphs easily and take care of the picture and hyperlink insertion.
Chart creation tools, symbols, and other buttons make for a complete experience.
That's for text files. For spreadsheets and presentations, there are also many great editing tools. Presentations can be managed easily with the help of some basic editing tools, but these should be more than enough for the average user.
Spreadsheets can be managed in such a way that you can add visually appealing presentations and statistical reports.
File Sharing is Easy
Once you're done with your document, you can share it with other people or team members who can review these files, although you will need to create an account.
Conclusion
ONLYOFFICE is an all-in-one document management tool where you can open and edit text files, presentations, and spreadsheets.