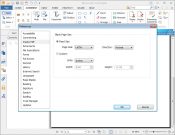 Foxit PDF Reader enables you to create, edit, and easily view PDF files while also offering you some advanced editing tools such as drawing, full-screen viewing, signatures, and more.
PDFs are one of the most common types of files on the internet nowadays. Whether you require to work with them for work, or if you want to view various files, then PDF seems to be the go-to file type when it comes to sending it to other users. And if you don't want to have paid tools for viewing PDFs, you should look at some free tools.
One of the best ones is Foxit PDF Reader. It's a great and intuitive app for viewing PDF files, editing them, and creating new ones from scratch.
It will help you open PDF files without paying a monthly fee while also offering you some neat editing tools such as drawing and signatures to help you get the best experience possible.
User-Friendly and Neat
One of the first things you'll notice about this app is its interface. It comes with a relatively simple interface that makes it easy for users to see all of the tools inside.
You can also opt for integrating this app within the Windows Explorer shell or not if you want as you're installing the app. There's also the Trust Manager feature that enables you a safe usage.
Key Features
The main feature is obviously to allow you to open your PDF files. But what is more, it has some more advanced tools that some other viewers don't offer. For instance, you can also view the comments added inside the interface and text-to-speech, allowing you to add new content by just using your speech.
On top of that, there are also other features like zooming, rotating, drawing tools, signatures, and more.
Conclusion
Foxit PDF Reader is one of the most popular and advanced PDF viewing and editing tools, and it's completely free to use.