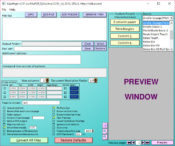 k2pdfopt is an application designed to give you better access to PDF and DJVU files on your mobile device. The application is easy to use and does not require involvement with too many buttons or settings.
You can use it efficiently because of its friendly interface that provides you with enough room to explore the available setting and load the documents you require from any of the application's windows.
You can use it if you are a non-technical user of the application or a technical one. It is not very complex but provides optimal results, making it appropriate to be used by anyone.
You can have the auto-straighten and color change feature with this application. Additionally, you can remove vertical lines and OCR features in the pdf files. Moreover, you can break the page at any point you like. These features make k2pdfopt one of the most efficient applications available for users.
Even other complex tasks can be performed with this application, but you need to be aware to use the command line function. Otherwise, it is not possible.
k2pdfopt is a useful tool if you want improved quality and better features for your e-reading applications.